With the Hunza Valley tour, you can see the lush green mountainous valleys in Gilgit-Baltistan, Pakistan. For centuries, travelers, merchants, and mountaineers have been attracted to the Hunza Valley because of its natural beauty and location along the Central Asian Silk Route. The region is not only known for its glaciers, apricot farms, and turquoise lakes but also for its rich cultural heritage.
A tour of the Hunza Valley will give you the chance to discover the local culture, experience local food, and see history come to life before your eyes. You will become a great traveler if you combine these elements.
One of the best tours in the world is the Hunza Valley Tour in Pakistan which will take you to the Khunjerab Pass, Ancient Silk Route, Baltit Fort, Altit Fort, Fairy Meadows, and the world-famous mountains Nanga Parbat and Rakaposhi. For many years Hunza Adventure Tours has organized tours to the majestic Hunza Valley for enthusiasts from around the world.
It is considered the epitome of travel in Pakistan to visit the Hunza Valley. One of the first places foreigners and locals think of when they are planning a vacation in the country is this area.
Tourists have coined the Hunza valley as a paradise on earth because of its entrancing scenery. One of the most refreshing parts of the trip is the Hunza trip valley, thanks to the lively people and beautiful scenery that gives out feel-good vibes all over. Trekking is also very popular now and claiming that Hunza offers many treks is a massive understatement.
Visit the places of different points of Hunza valley to explore its beauty. Each point is amazing, presenting the natural beauty of Hunza along with the culture of the region. You can also go on some amazing tours about culture and traditions.
Karimabad Hunza Valley
The Hunza Valley's Karimabad village boasts golden sands and an incredible natural landscape. The place has a chill-out party vibe thanks to its swaying cherry trees and vibrant apricot trees. Karimabad has activities to suit everyone, whether you are seeking adventure or relaxing by the pool.
Karimabad's small market allows you to experience Hunza's lively shopping culture every day. Former members of the Royal family live in the village due to its history. Village houses and streets are made of stones, giving them an ancient appearance. Karimabad also has some famous landmarks, such as:
Queen Victoria Monument
Channel Walk
Additionally, the glacier of Ulter Nala falls in Karimabad
Baltit Fort Hunza Valley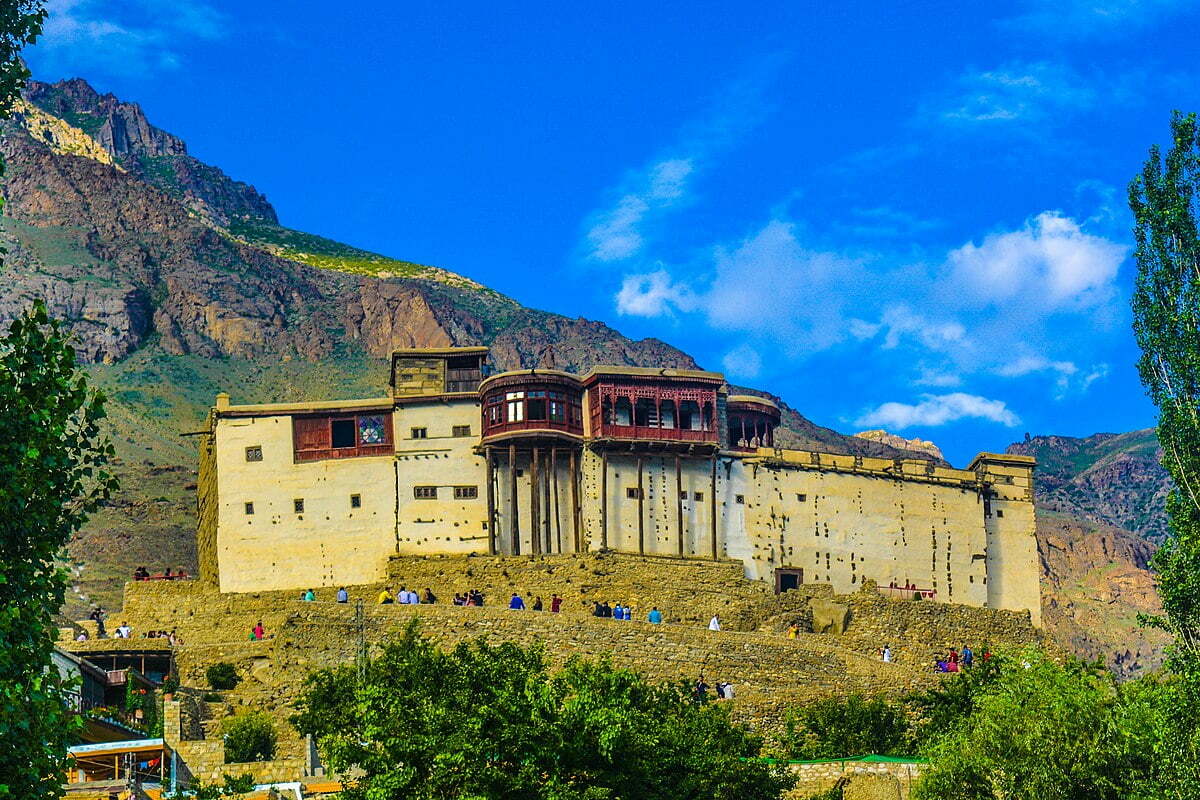 A towering fortress in Hunza Valley that has been around since the age of archaeology, Baltit fort boasts of a rich past and story of legends that once lived there. This fort was where Prince Agha Khan stayed while he was visiting Hunza Valley. From the fort, you can see majestic views of the surroundings. The fort is today at the top of the Bazaar.
Above Karimabad stands the fairy-tale castle of Baltit, perched on massive legs, with wooden bay windows that look out across the valley. Following a conflict between two of the ruler's sons, the rulers moved to Altit Fort.
The Baltit Fort is another impressive fort in the Hunza valley, a must-see destination if you're in the area. According to historians, the fort has been around for around 600 years. It has been rebuilt and modified numerous times throughout the centuries.
Altit Fort Hunza Valley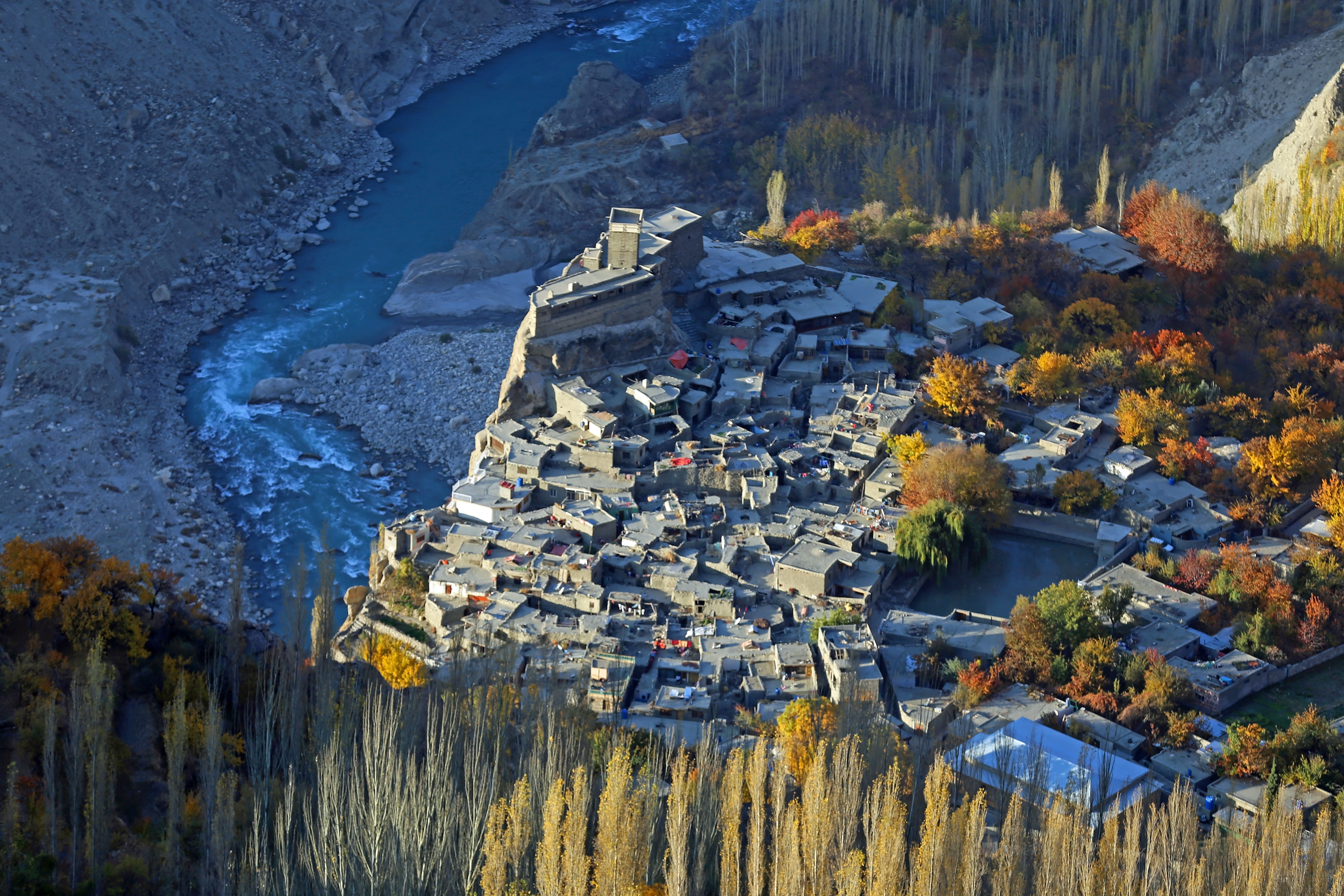 A famous feature of the fort is its royal garden and the communities that surround it. The old ladies sit in their colonial houses wearing traditional dresses and converse with each other. In the winter, swimming pools are used for skating. Ancient Altit Fort, located above Karimabad in the Hunza Valley, offers breathtaking views and mesmerizing views.
Those who took the title Mir were the hereditary rulers of Hunza. A former prince lived in Altit Fort around 1100 years ago. This museum now occupies the site. These two forts are masterpieces of architecture and craftsmanship. It preserves cultural heritage for future generations as a result of its design by the Agha Khan Culture Trust. Fort Altit is not just about a place.
Eagles Nest Sunrise and Sunset
Eagle's Nest is one of the most magnificent viewpoints in the village of Duiker. Because of the breathtaking views, this is one of the best places to see in Hunza.
It is an unparalleled experience to witness the dawn and dusk of Lady Finger and Rakaposhi from the famous eagle nest in Dukair while staying in Hunza.
A small village in Hunza known as Duiker, Eagle Nest is situated there and offers a panoramic view of the entire region. A drive of 30 minutes from Hunza Karimabad can take you to the beautiful site where you can see the most incredible view of your life.
Spantik Peak, Rakaposhi Mountain, the Karakoram Highway, and more can be seen from the top, which is a rocky peak with interesting rock formations.
Attabad Lake Hunza Valley
Attabad Lake Hunza was formed following a massive land sliding incident in Hunza, Gilgit Baltistan. Hunza was cut off from the North by the incident in 2010. Attabad Lake Hunza has emerged as a major tourist attraction in the Hunza Valley. People visit the lake and enjoy boating there as well.
Hunza valley is home to some very amazing places such as Attabad Lake. Amidst the gigantic mountains of the Karakoram, you are enchanted by the turquoise crystal water. In addition to the awe-inspiring colors of the spring season, there are many tourists that flock there each year.
Additionally, it measures 13 miles in length and has a depth of almost 358 feet. Among Pakistan's best lakes due to its beauty.
Gulmit Village Upper Hunza Valley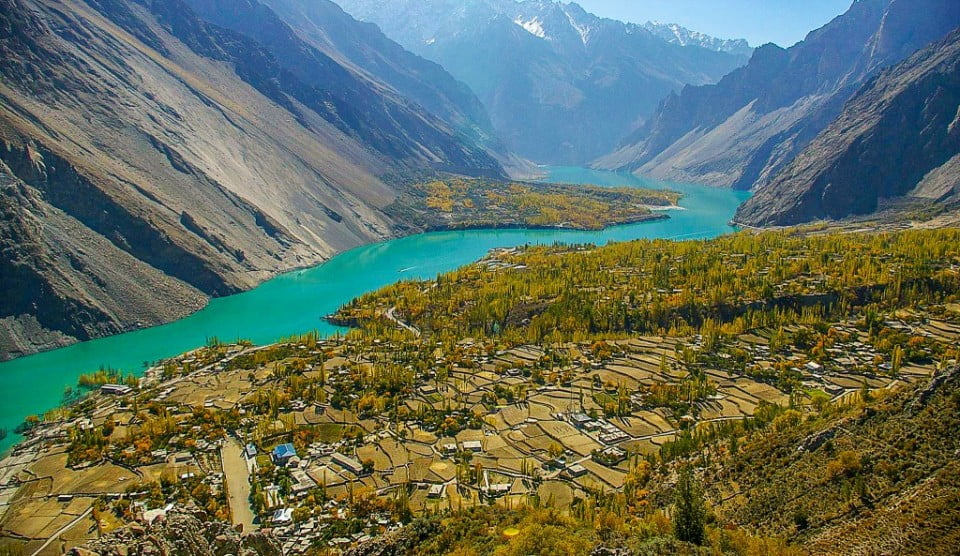 In Gulmit, an idyllic village on the Karakoram Highway, you'll find Gojali culture combined with impressive views. As soon as you cross the iconic Gulmit-Shishkat bridge, you'll catch your first glimpse of the Passu Cathedral, also known as the Passu Cones.
The colors of nature can be found here in their enormous splendor. A great thing about Gulmit is that it features unique cultural spots that other places in Hunza lack, as well as hilly roads that provide beautiful views rarely seen elsewhere.
Passu Cones and the panorama of the entire valley are so captivating. The mountains and peaks of Gulmit, along with monuments and a pleasant climate, offer a complete package for tourists.
Passu Cones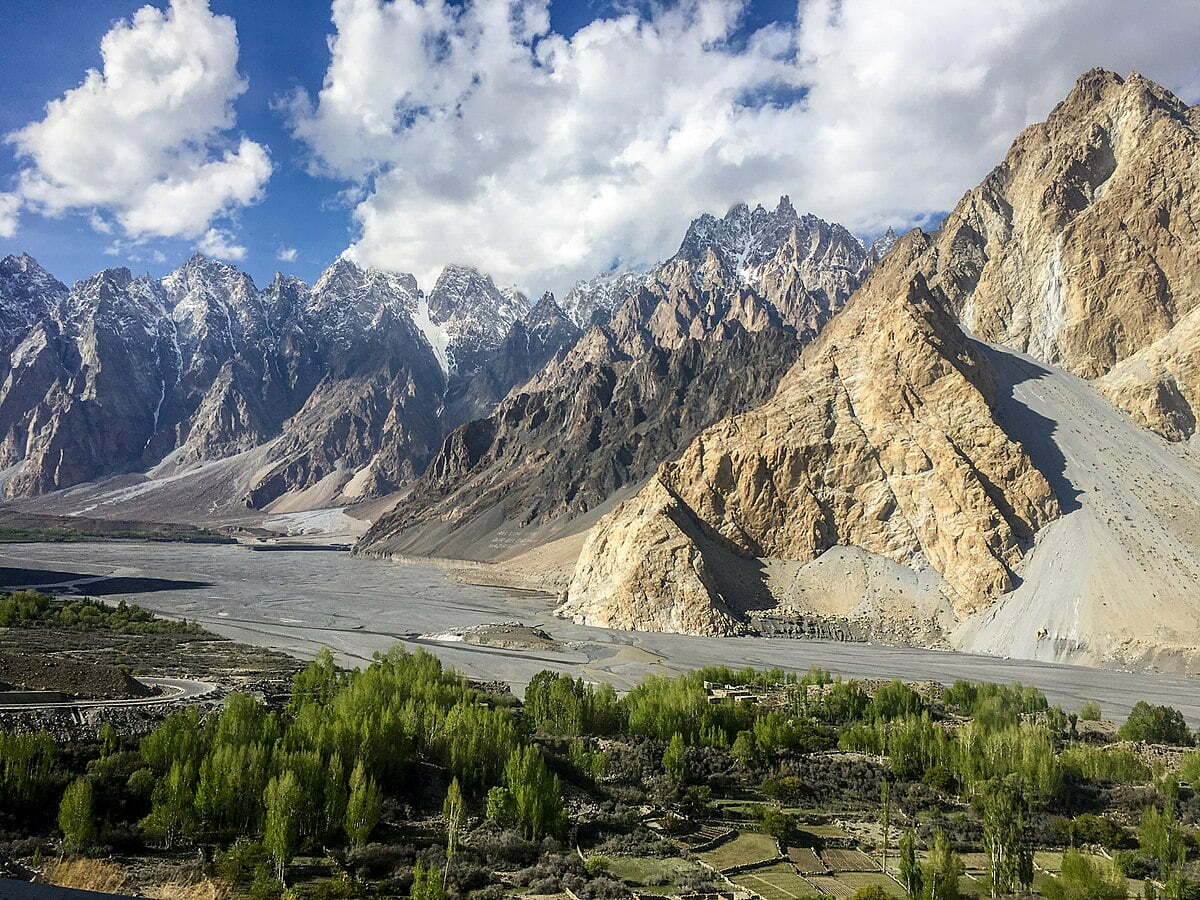 Hunza Valley, on the Karakoram Range, contains a few insinuated peaks called Passu Cones. It is simply breathtaking to see the mountains that form a cone along the Karakoram highway. Passu Cones and Passu Peaks are two names for the cones. At 6,106 meters, they are the highest mountains in the region.
There have been very few climbs of the peaks of Passu Cones. It would be a serious endeavor to climb the peaks of the mountain range and would require an appropriate planning approach. A few of them are extremely steep and may require technical climbing techniques. This beautiful place is visited by a large number of locals as well as foreign tourists, especially during the summer months.
Passu Glacier
Passu Glacier can be reached easily and hiked beside it, but if you want to get on it, you need a guide for the day. It is the guide's job to know how to cross the more dangerous precipices that are located on the side of the glacier and to get on the glacier.
If you wish to hike by the glacier, you have two options for getting up there. From the main Karakorum Highway road, take a dirt road that passes villages with fruit gardens and the picturesque Borith Lake. Depending on your fitness level, it will take longer.
If you have your own transportation, you can drive up in about 15 minutes. Unless you have a personal vehicle, you will have to pay for a one-way ride. A Jeep is waiting for passengers at the turnoff. If you don't have your own car, you can drive up there and get off at the main road (if you don't have one).
The small outdoor scenic cafe at the hike's start is a great place to grab a cup of hot tea before (or after) the hike.After passing the little cafe, the trail begins to climb for about 5 minutes before leveling off and taking you along the cliff for about 10 minutes until you see your first glimpse of the glacier.
Hussaini Suspension Bridge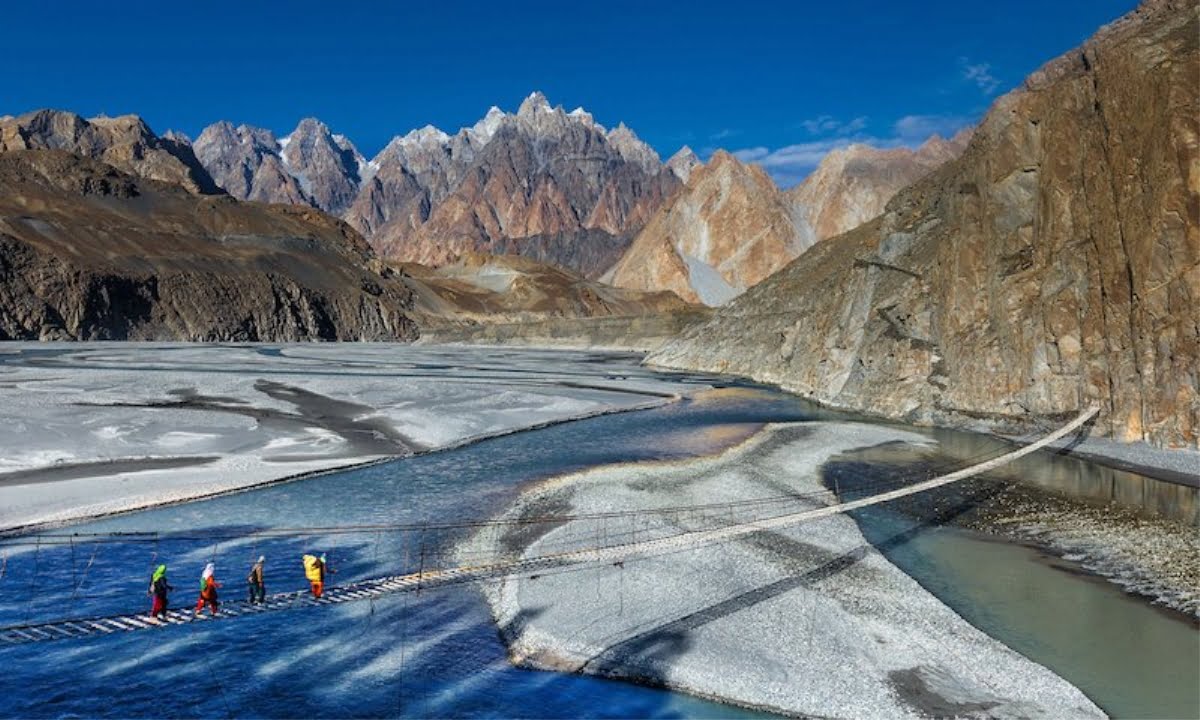 On one side, six cables are hung, and on the other side, four cables are hung. Several gaps between the planks of wood. Some planks are also missing between the gaps. The Pakistan suspension bridge is the best and the highest in the world. Hunza river in northern Pakistan is crossed by the Hussaini suspension bridge. The bridge has the distinction of being one of Pakistan's oldest bridges.
Hunza's Hussaini Bridge was not officially named the world's most dangerous bridge (it was recently repaired) but it is definitely one of those places that you must visit while in Hunza.
There are plenty of spots for snacks near the bridge, which is near the end of a dirt path. You can make a full-day trek across Hussaini Bridge and through Zarabad if you really want to experience bridge walking at its best.
Rainbow Adventure Bridge
Passu gains a new tourist attraction with Rainbow Adventure Bridge. It is hard to tell how and why this bridge was painted and for what reason, but after it has been painted, it looks like it came from another planet. There is no indication that it is even in Pakistan despite its location.
Khunjerab Pass
Khunjarab Pass is the easternmost point of the Pak-China Economic Corridor (PCEC). It enables both Pakistan and China to achieve a number of educational and economic advantages. A trip to Gilgit Baltistan's border with Pakistan is a must-see experience when in the region.
There are yaks nearby. If you are interested in riding a yak, this is a great opportunity for you. It is a lengthy post today because there is a lot to say about this border and the amazing views that are around so we are going to try and write another detailed post about this.
Khunjerab National Park
This park is mainly for driving through as it is a nature preserve. As the last place to visit in Hunza, the Khunjerab Border connects Pakistan to China. Not only is it in the region, but it is also in Pakistan!
In order to reach the Khunjerab Border, situated at 4706 meters / 15,439 feet, you must drive through Khunjerab National Park. You may see ibex, yaks, and marmots in the National Park if you're lucky.
Borith Lake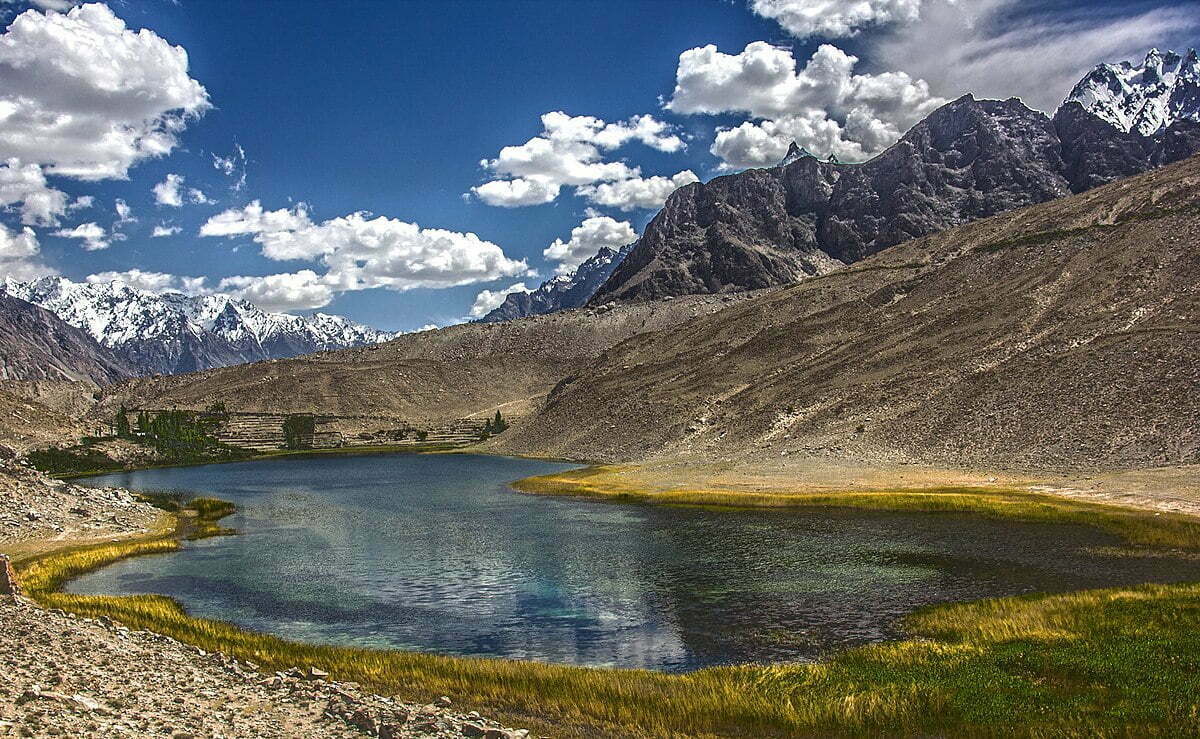 A 10-minute drive from Gulmit village is Borith Lake, which is located on the western part of the lake. If you are looking for the best place to rest out of your busy daily life in Hunza, then this is probably the best place for you.
This beautiful lake has both white glaciers and black glaciers close to it that are a 15 to 30 minutes' drive or a 1 to 3-hour walk from here. Hunza is a region that is overflowing with scenic beauty and leisure time opportunities. It's a great idea to go camping on Borith Lake while you're in the region.
Ondra Poygah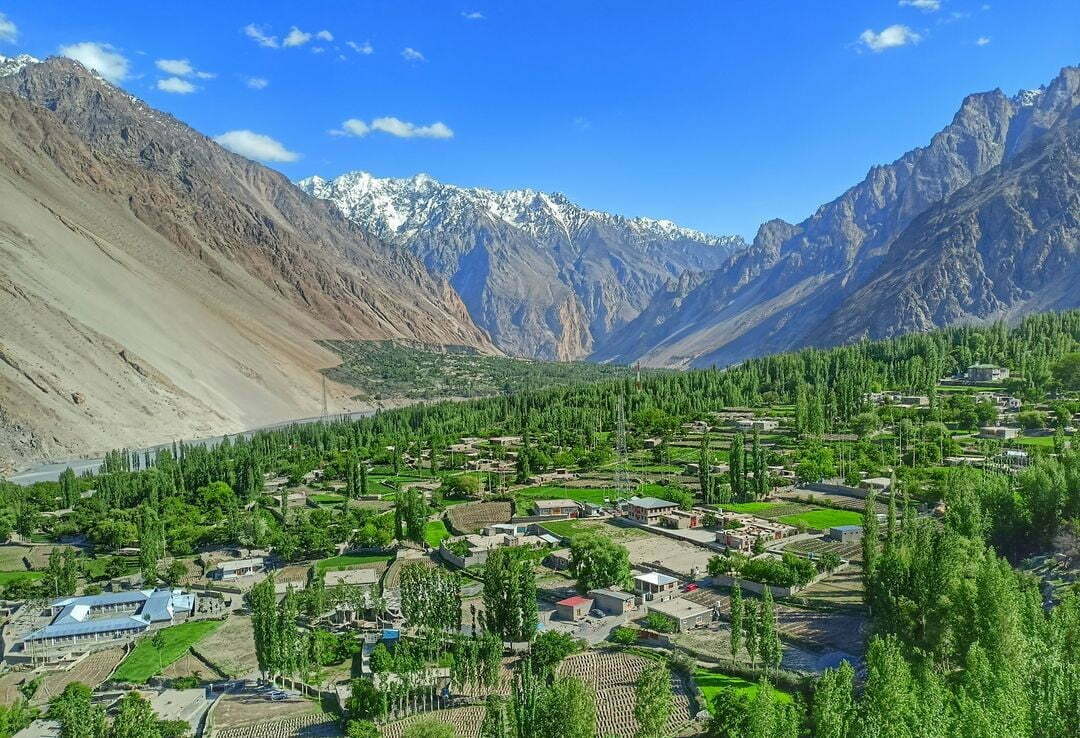 Experience Old House, 1500-year-old settlement, Local Food and the longest staircases in Pakistan. Gulfmit is considered one of the most beautiful valleys in Pakistan. It is not by chance that the valley has had that reputation of being a mountain resort since ages immemorial.
This extraordinary hotel is located in the spectacular Karakoram mountains on the old silk route, approximately 140 kilometers away from Gilgit, 45 kilometers from Karimabad Hunza, and 136 kilometers from Khunjerab.
Hopper Valley
In Nagar Hopper Valley is located at a distance of approximately 10 kilometers from Nagar Khas, the capital town. The Nagar Valley is situated at an altitude of about 8,000 feet (2,438m) in the Himalayan region and is one of the most scenic and beautiful valleys in the region.
From Karimabad, you can trek to Hopper Glacier. From Karimabad, the glacier can be reached in about 40 to 45 minutes. Grey-black in color, this glacier is unique from other glaciers. Accommodation is available in two small hotels.
A number of glaciers can be found in Hopar Valley, including Rush Lake, Bwaltar Peak, Kapldongs, Shaltar Peak, Hispar Muztagh, Spantik, Barpu, Baltar and Hopar (Hopper) glaciers. Five villages are also located in Hoper, namely Borashail, Hakalshall, Gashashoshall, Ratal, and Holshall. Hoper to Skardu can be reached by trekking. The lush lake in the valley is the most popular tourist attraction.
Ganish Old Village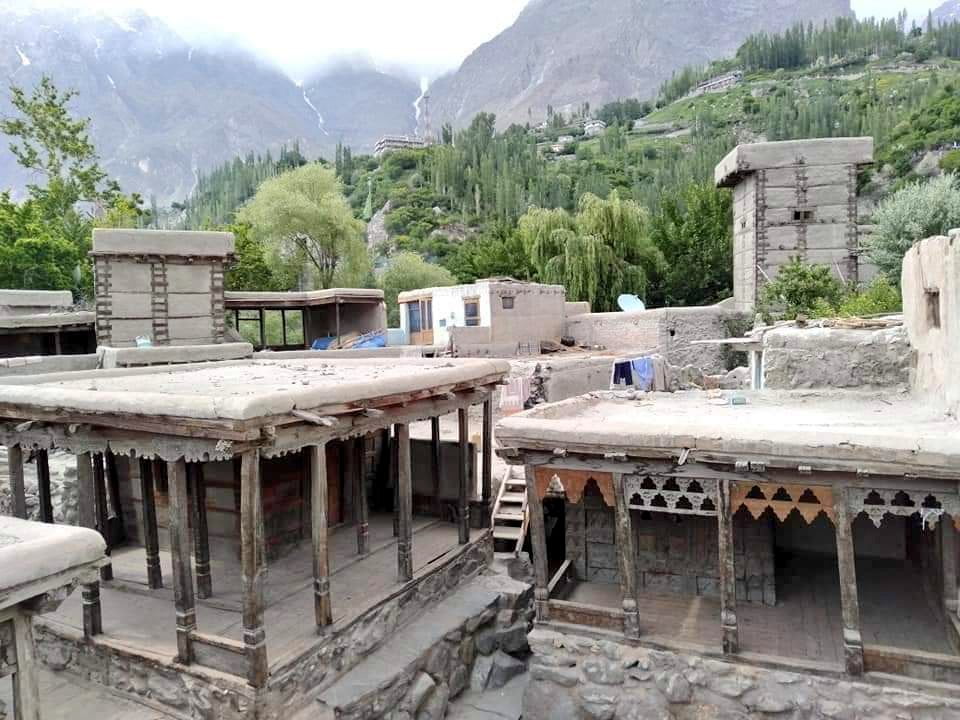 A UNESCO Asia Pacific Heritage Award was given to Ganish Village for its restoration. Ganish shows an alternative view of Hunza life from the traditional Hunza lifestyle of Baltit Fort. There are several beautifully carved wooden mosques, dating from 100 to 200 years old, behind a shaded, tranquil tank, and whose restoration won the award.
Before crossing the Hunza River to attack the Nagar villages, Ganish warriors practiced their river-crossing techniques in the tank, according to legend.
Using glacier meltwater to store food is particularly interesting; it is still done today. Underwater butter can be stored for years wrapped in birch bark! The butter might even be made into sweets! Ganish is a living village rather than a museum, despite its award-winning restoration and quaintness.
One example of this is the huge concrete Imamia complex being built next to the walled village. Imambaras will be adorned with wooden carvings, which will help them blend in. If no one is manning the admission booth, walk into the village and someone will find you.
Shimshal Valley
Shimshal Valley is a valley of climbers in Hunza Valley, situated in Gojal. Over 3,100 meters above sea level, this valley is a popular destination for climbers. Shimshal is a border village in Gilgit-Baltistan that is located between Pakistan and China. Approximately 55 kilometers separate Shimshal from Passu Village. The valley is a major tourist attraction in Hunza and is home to the largest adventure area. Shimshal consists of four isolated villages. Aminabad, Farmanabad, Khizarabad, and Central Shimshal are some of them.
Chapursan Valley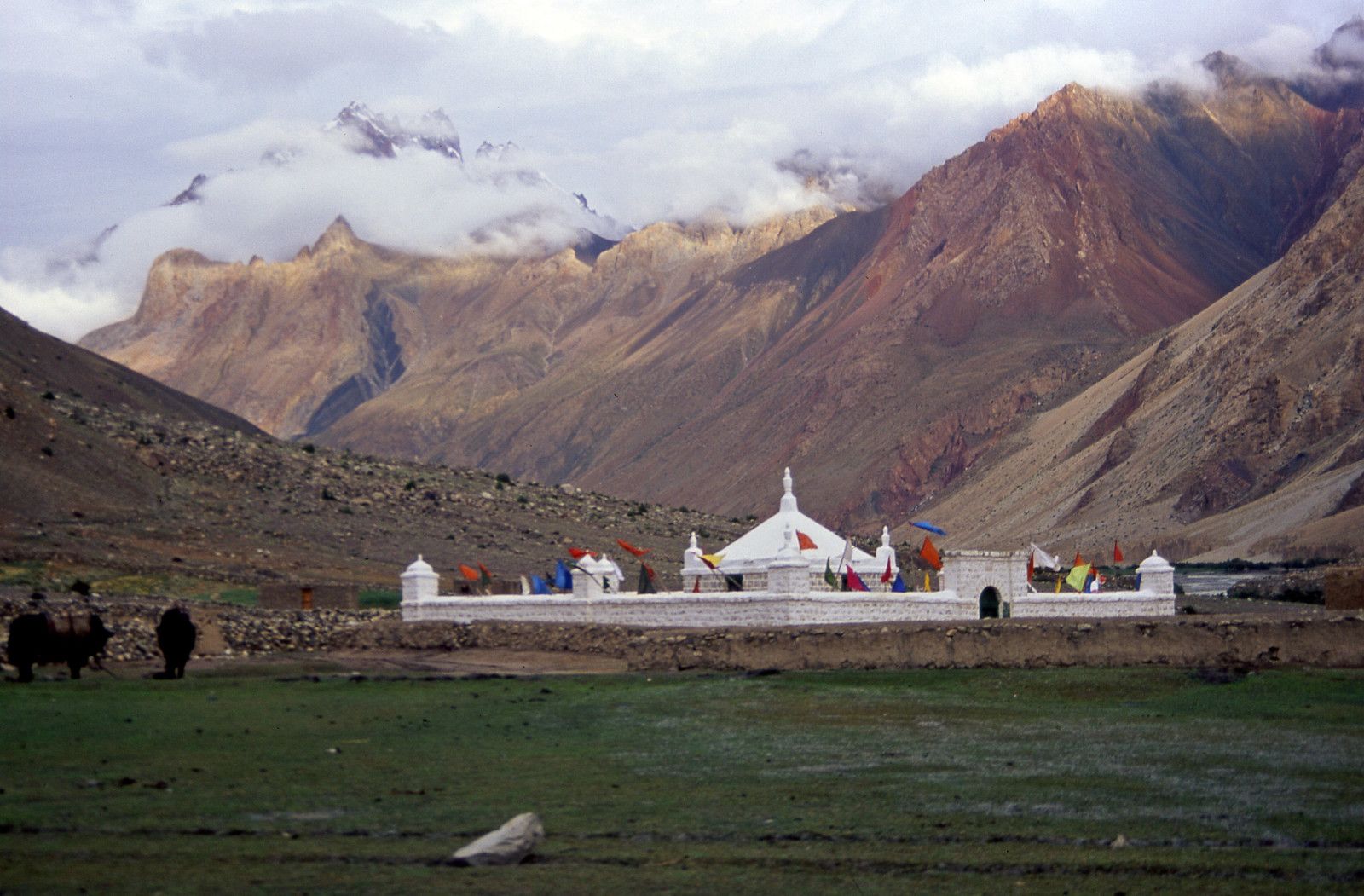 One of Pakistan's most magical places, Chapursan Valley, is enveloped in an array of reds, moonlike landscapes, and true roof-of-the-world feelings.
There may be other valleys in Pakistan with Chapursan Valley-like qualities, but I have not been anywhere else that can truly capture the feeling of this valley. Thousands of meters above sea level, some of the scenery will literally make you feel like you're on top of the world.
The Chapursan Valley is one of Gilgit Baltistan's most remote locations, and it is only accessible by jeep or motorbike along a bumpy road. Internet access is practically nonexistent in Chapursan, and most residents speak Wakhi.
Despite its growing popularity, Chapursan Valley remains a tranquil and off-the-beaten-path destination thanks to its remote location. It is hard to find information about this picturesque hamlet, and reaching it is in itself an adventure.
Misger Valley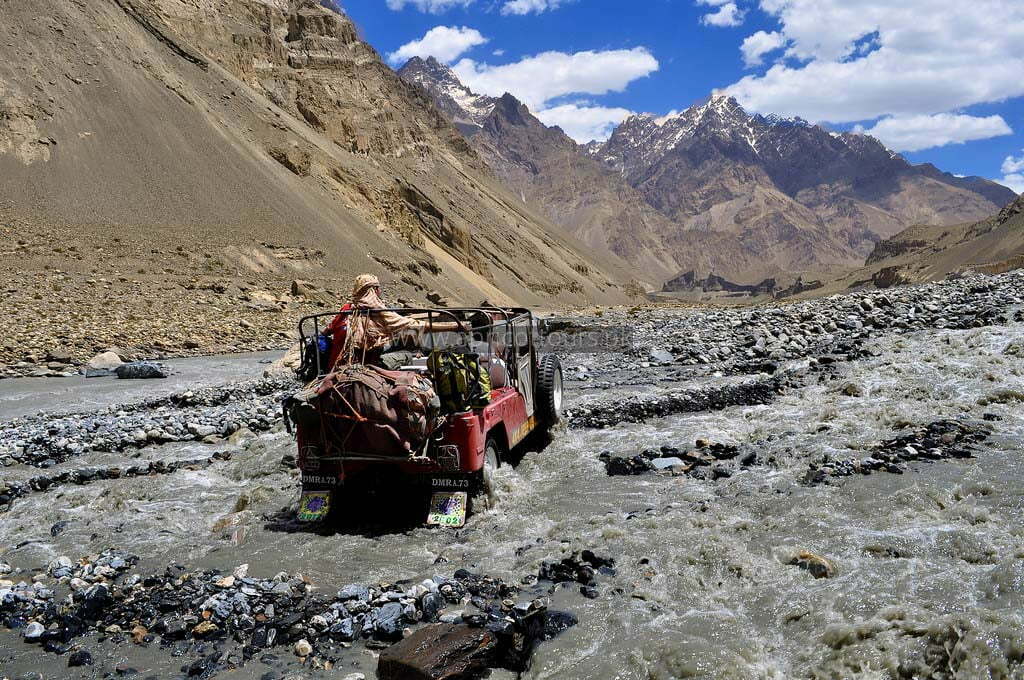 Located approximately 7 km north of Sost on the Misgar link road, which intersects the KKH, Misgar is the last village in the Gojal Valley. Gilgit-Baltistan has one of the most beautiful and geographically significant valleys, Misgar Valley. Misgar is the point where the China-Pakistan border passes through the Mintika pass.
Kilik, Mintaka, and Dilsung are the three main rivers flowing through Misgar territory, which extends to China and Afghanistan. A British fort built in 1932, it is a strategic location about five kilometers upstream from Misgar valley.
Boiber Valley
Shimshal was once connected to Gojal through the valleys of Avgarch, Boibar and Piryar with the Karakoram Highway in Moorkhun valley. For many years, Shimshal Valley was accessed by the 5 000m high Qaroon Pass. Jamalabad to Avgarch – walk across footbridges, climb, jump, fall, rest on these impossible slopes.
The flood disaster of 2015 damaged a well-built local road. Almost no one lives in the village, making it feel like a retreat.Wakhi settlements made of raw stone and wood are the oldest in the world. It's best to hear the stories behind the ruins from the locals.
From the east-west valley of Boibar, there is a river that flows to the Hunza River 10km from the town of Sost, starting at Qarn Koh (7164m). In addition to its historical significance as the original Kuchi settlement in Gojal and the gateway to Shimshal, Boibar has some of the best juniper trees in the world. Boibar is also a name for a place in the Wakhan Corridor, suggesting the original inhabitants may have come from there.